Autologous Cultured Cartilage
Cartilage is the thin layer that covers the bones in joints such as knees and elbows, allowing them to move smoothly over each other. In healthy adults this layer is around 2-3 mm thick, but it becomes thinner with advancing age. As cartilage tissue does not naturally recover once damaged, it is extremely difficult to treat with drugs or other therapies. Now, however, the latest tissue-engineering technology means cartilage can be regenerated with cultured cartilage.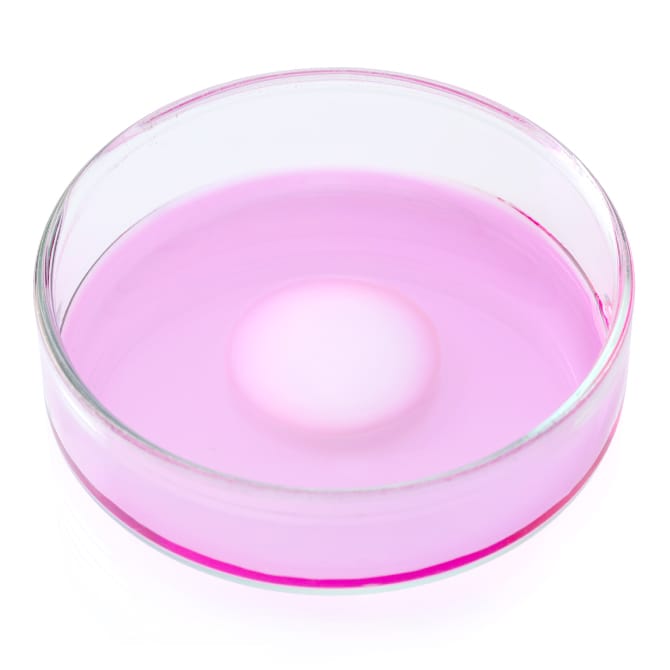 Development
The treatment of damaged cartilage has long been one of the aims of orthopedic surgery. Professor Mitsuo Ochi of Hiroshima University has taken small amounts of cartilage from patients with cartilage damage and produced cultured cartilage, which is then implanted into the defective area. The therapeutic technique he established is known as autologous cultured cartilage transplantation. J-TEC was quick to take notice of this method and obtained the guidance of Professor Ochi concerning his culture technique, in order to develop Japan's first ever cultured cartilage.
Culture

An orthopedic surgeon carries out minimally invasive arthroscopic surgery (keyhole surgery) to collect a small amount of cartilage from the knee. This cartilage is sent to J-TEC and cultured after having been mixed with atelocollagen gel and shaped into a three-dimensional form. During the culture period, which lasts about four weeks, the cartilage cells (chondrocytes) proliferate and eventually reach a state closely resembling the properties of the original cartilage. This method is known as three-dimensional culture, and it is outstanding for the fact that it enables chondrocytes to be cultured while retaining their original properties.
The use and commercialization of the medicinal products developed by Japan Tissue Engineering Co., Ltd. that are referred to on this website are approved only in Japan. A potential use and commercialization in other regions will be subject to the prior granting of a marketing authorization in the given territory and compliance with applicable laws.
Researchers
Mitsuo Ochi,
M.D., Ph.D.

A world authority on the use of regenerative medicine in the treatment of cartilage defects. Professor Ochi is a specialist in knee-joint surgery, sports medicine, and regenerative medicine. He started therapy for knee-joint cartilage defects using tissue-engineering technique in Japan in 1996. He has advised J-TEC on the development of autologous cultured cartilage.
He is Orthopaedic Surgeon, and President of the Hiroshima University, Japan.

---

Autologous osteochondral plug transplants and other methods are currently being attempted as surgical treatments for articular cartilage defects in the load-bearing area of the knee, but all of these have both advantages and drawbacks. Our group has developed a culture method using autologous chondrocytes and atelocollagen that conserves the matrix-synthesizing ability of chondrocytes. Based on our experimental results, we have devised a surgical procedure for embedding atelocollagen and transplanting autologous cultured cartilage, and have begun its clinical application.
We have transferred the technology for this culture method to J-TEC so that patients of all ages suffering from cartilage damage, from children to the elderly, will be able to undergo this surgical procedure at any hospital throughout Japan. I believe that it is J-TEC's mission as one of the leading players in the field of regenerative medicine in Japan to improve the company's technology even further in order to offer high-quality, safe products to society. I anticipate that J-TEC will disseminate this transplant surgery for cartilage regeneration not only within Japan, but also to other Asian and Western countries and throughout the world.